Futons: Your Home's Greatest Accent
The futon is a lot more than the previously dubbed spare room, TV room accouterments. This newly transformed space saver has a new audience appeal in the young and old alike. Not only is this modern day marvel inexpensive but it is quality-made, durable futon furniture and is available in a range of styles to fit any budget and décor, giving you a real value for your home furnishing's dollar.
The designs of futons have evolved over the years. They're using more streamline designs, for a contemporary and modern feel. This ultra stylish, and functional both for you budget and life style also comes with an additional edge that is unsurpassable allowing it to be in a class of its own. Futons are great for your back.
Due to the fact that most futons are constructed with slats, and a cotton mattress, usually 3 – 6 inches thick. This causes the futon mattress to be slightly firmer than a standard bed mattress. The health implication here is that of a firmer mattress, which allows your spine to keep a straighter posture. Most futons are also made with natural or organic fibers, which provide better insulation, keeping you warmer at night as you sleep.

Futons, having the ability to transform itself from a couch to a bed, reduce the need to purchase extra (and in many cases, needless) furniture. Futons also need far less flipping than standard bed mattresses. On the rare occasions when you might feel the need to flip a futon mattress, they are lighter, and easier than their competitors. This feature also makes futons a breeze to clean. These convenience factors are the main reasons why so many home owners are opting to include a futon in their house.
By now we can all agree that futons are practical, convenient and affordable, but what more would a futon buyer need to focus on? The main three items that all interested parties should be concerned about whether you are purchasing a factory made futon or designing your own custom futon would be the frame, mattress and cover.
The futon frame is the foundation of a futon; it can come in different forms and can be made out of wood or metal. Regardless of the material your futon should be sturdy and easy to use, because the right frame will increase the beauty of your home.

Your futon mattress is arguably the most important component of your futon sofa. Unfortunately, it can also be the most overlooked component. The mattress is enhances the comfort factor of your futon. As in many things that we have in our society, price does pay a factor, so when focusing on the mattress you definitely want to get as close to the high end as your budget would allow.
Your futon is not complete without a futon cover. Futon covers are removable which means you can wash them or replace them with new covers whenever you want. If you love to change the atmosphere of your home you can purchase different futon covers and patterns to create your feel good room. Your futon cover fits around the entire cushion like a duvet. Helping to creating the feel and want you desire in your home
One last thing to remember about futons is that futon beds, unlike traditional futons do not convert to couches, but do provide the same comfort. You can never go wrong with a futon!
Shopping for furniture online made easy by Pepperfry.com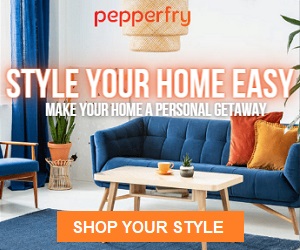 Pepperfry is an online furniture store where the modern Indian's shops furniture for their homes. They have large collections of top furniture brands and makes your home upgrade easy and hassle-free. Feel free to visit Pepperfry.com for special discounts only offered at their online page today!
Tags :
Pepperfry